Chiropractic Care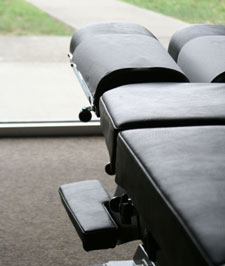 Chiropractic care focuses on the relationship between the body's structure (the spine) and its function (the nervous system) and how that relationship affects the preservation and restoration of health. Because the nervous system controls every cell and organ in your body, chiropractors focus their attention on the health of your spine being properly aligned. They perform adjustments to the spine or other parts of the body to allow normal and optimal function of your central nervous system.
A Chiropractor's goal is to correct spinal and joint problems, alleviate pain, improve function and help support the body's natural ability to heal itself without surgery or medication. Chiropractors may use other treatments in addition to spinal manipulation.
The Benefits
One of the best things about chiropractic care is that it's a drug-free and surgery-free path to healing naturally. Chiropractic adjustments can free your immune system up so it can focus on keeping you healthy, enhancing your ability to think, move and perform.
Therefore, with regular adjustments chiropractic care can offer a host of preventative health benefits including:
Posture and spinal flexibility
Nerve communication in the body
Scoliosis
Athletic performance
Joint motion and performance
Healthy pregnancy
Blood pressure
It can also help with:
Back and neck pain
Migraines and headaches
Knee, foot, ankle and leg symptoms (pain)
Stiffness and joint pain
Arm, wrist, shoulder and elbow pain
Arthritis and other chronic injuries
Muscle spasms
Repetitive stress and tension conditions
Finding Techniques That Work for You
Chiropractor Dr Mark Carter is well-versed in a variety of chiropractic techniques and may assist people who have any of the issues mentioned above. He'll discuss any past experiences you've had and whether you might have a preference or concern. The method of care will be fully explained to you before starting. These may include:
A Gentle Approach
The Cox Flexion-Distraction Technique utilises a specialised table that may work ideally for those with arthritis in their spines, disc injuries and sciatic pain in the low back or neck and stenosis. It's low-force and doesn't involve any of the 'cracking' usually associated with chiropractic adjustments.
A Complement to Your Healing
Sports taping is also available at our practice, and your chiropractor may prescribe you therapeutic exercises as appropriate part of your return to health.  A range of vitamins and supplements from Metagenics as well as nutritional products from the Changing Habits line is available on-site.
Schedule your appointment at Carter Family Chiropractic Centre today!

Chiropractic Care Leeton | 02 6953 3330